Brooklyn offers a less expensive alternative to Manhattan for activities, eateries and attractions. The neighborhoods are varied with a rich cultural diversity. By foot, bike, bus or train, it is easy to get around and explore.

DUMBO, an acronym for Down Under the Manhattan Bridge Overpass, is the vanguard of the arts in Brooklyn. Urban charm emanates from streets lined with art galleries, music studios and antique shops. Brooklyn Bridge Park, nuzzled between the Manhattan and Brooklyn Bridges, encompasses Empire Fulton Ferry Lawn, Jane's Carousel and Picnic Grove. Cook on Hibachi-style grills and eat at wooden picnic tables alongside the East River where you can watch the sun set over the New York Harbor.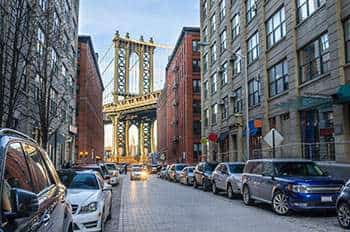 Brooklyn is famous for the pizza and bagels produced here. Roberta's in Bushwick was awarded New York Magazine critic's pick for delicious Neapolitan-style brick oven pizza. Diners can feast inside or outside all year round. There is a covered heated area available during the winter and an outdoor garden with a Tiki bar open in the summer. The Bagel Pub can be found in Park Slope, Gowanus and South Slope. In addition to luscious, chewy bagels, there's a long list of cream cheese spreads, including jalapeno, guacamole, cinnamon walnut raisin and tofu.

Williamsburg is a vibrant, gentrified area that continues to gain popularity. Proximity to Manhattan, charming shops, and sensational restaurants and bars, are a few reasons that Williamsburg attracts professionals, artists and students. Williamsburg Smorgasburg on the waterfront at East River State Park is open every Saturday from April to November, rain or shine. This popular flea market features around 100 local and regional food vendors.

Coney Island, the infamous amusement park dating back to the early 1900s, is a national historic landmark. Coney Island conjures up images of sandy beaches and a boardwalk with rides and playgrounds. This mainstay of Brooklyn also includes a skating arena, an aquarium and Friday night fireworks. Heading into the holiday season, events include Luna Park's Halloween Harvest and Coney Island Children's Halloween Parade.

Once considered the place to live for those who could not afford Manhattan, today Brooklyn is a highly desirable location to live, work and play.