New York City has a panoply of attractions, and newcomers may not know where to start. If time is limited, here is a bucket list to make the most of an extended stay.

High Line

A great source of pride and joy for New York is High Line Park, a vibrant public space transformed from an old elevated rail line. High above the artsy downtown area, this beautifully landscaped park offers artwork on display, perennial gardens, railroad relics and a walking trail that extends almost 1.5 miles. Walkers, joggers, and sunbathers flock to this city garden for exercise and reverie. As an added bonus, the elevation offers a cool breeze on a hot day.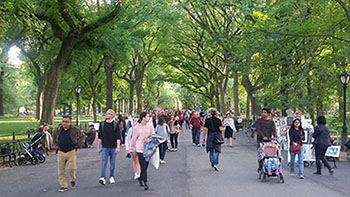 Dinner or drinks at the Metropolitan Museum rooftop bar

Enjoy drinks and light fare on a Manhattan rooftop surrounded by a breathtaking view of Central Park. The Roof Garden Café and Martini Bar at the Metropolitan Museum of Art is the place to experience culture, art and a striking skyline. Don a pair of sunglasses and slip into a socialite persona as you sip a martini in this cocktail party-like setting.

A Broadway show

Staying in New York City without seeing a Broadway show would be comparable to going on a safari and ignoring the wildlife. Broadway is the heart and soul of the city's appetite for entertainment. Whether your taste is long-running shows like "The Lion King," "Wicked" or "Phantom of the Opera," or newer shows like Larry David's "Fish in the Dark," live theater is a must-have Manhattan experience. There is also a high caliber of talent showcased in off-Broadway shows such as "Blue Man Group."

One World Observatory

A New York bucket list would not be complete without One World Observatory, located at the top of One World Trade Center. This is an opportunity to honor the memory of 9/11 victims and celebrate the buoyancy of the city at the same time. Board a sky pod elevator to the 102nd floor and experience an extraordinary visual that displays the emergence of the skyline since the 1500s. Through a program called "Voices," hear heartfelt stories from the people who constructed the building. These are just a few of the sites that capture the essence and rhythm of Manhattan for people on an extended stay.

NYC bucket list continued

During an extended stay in New York, take the opportunity to experience the manifold activities the city extends to adults and children.

Restaurants

Explore the wide range of eateries that represent every culture and mood. Amelie Wine Bar is one block north of Washington Square Park in Greenwich Village. High ceilings, a lacquered red bar and European-style tables set the mood for the French-style cuisine. Unwind with a late-night glass of wine accompanied by a cheese and charcuterie plate. Brunch specialties include croque-monsieur and croque-madame. Fondant au chocolat is one of several heavenly desserts. Tony's DiNapoli has two locations, one in Times Square and the other on the Upper East Side. The flavorful Italian fare is served family style with generous portions. This is a popular venue for large dinner groups and parties. Catering services are provided should you prefer to host a gathering at your residence.

Movie theaters

New York is famous for its live Broadway and off-Broadway performances, but movie theaters abound in the city as well. For some famous actors who grew up in NYC, cinemas were their escape and source of inspiration. AMC Loews Lincoln Square 13 on the Upper West Side is a 600-seat IMAX theater that features 3D movies. On the Lower East Side, Sunshine Cinema offers new independent films. Lincoln Plaza, located on Broadway between 62nd and 63rd Streets, plays many films directed by Woody Allen and other global cinema directors.

The boroughs

Take advantage of the transit system, which facilitates a quick ride through the arteries of the five boroughs. One of the main attractions in Brooklyn is known as DUMBO, an abbreviation for Down Under the Manhattan Bridge Overpass. DUMBO has blossomed into a trendy neighborhood where you can see breathtaking views of the bridges connecting Brooklyn to Manhattan. It's known for its art galleries, voguish restaurants and old warehouses that stand as reminders of the industrial era. In the neighboring borough, the Queens Botanical Gardens is a tranquil place that wins accolades for its spring tulips, butterflies and quiet beauty.

Museums

There are so many types of museums to visit in the city that it can be overwhelming to choose. Art forms include medieval, fashion, biblical and folk art. NYC-Art makes it easier by providing a full list of museums broken down by those that are always free and those that allow free admission on select days of the month or week. Pay what you wish at the American Museum of Natural History, The Cloisters, Metropolitan Museum of Art and others. Take advantage of your time in NYC, the city that has something for everyone.